Introduction of PP/PE Wood Plastic Profile
The characteristics of wood-plastic materials are good processing performance, high strength, water resistance, corrosion resistance, long service life, excellent adjustable performance, ultraviolet light stability, good coloring, recycling and reproduction, a wide range of raw materials, and any shape And size. The biggest advantage of wood-plastic composite materials is that it replaces the application of solid wood in various fields. Construction products are the most widely used aspects and occupy a large part.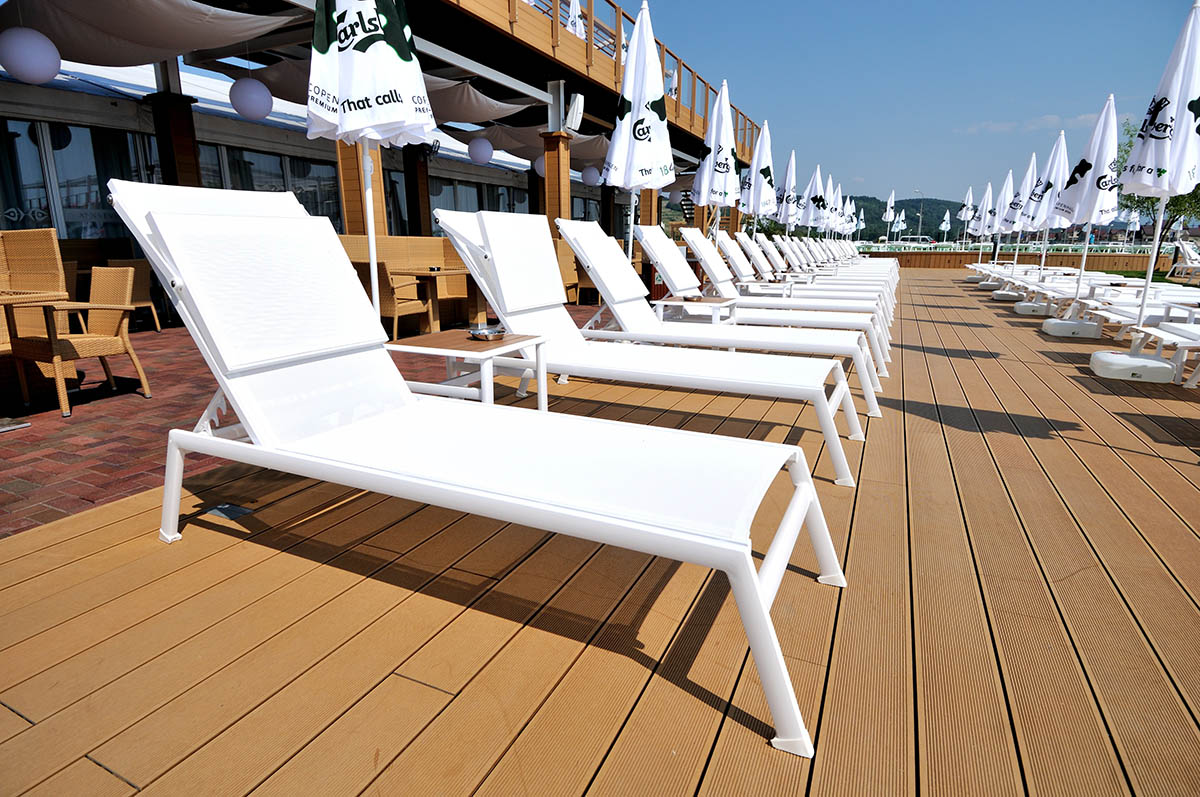 Application of PP/PE Wood Plastic Profile

WPC equipment is an extrusion production line made from waste wood materials. It is widely used in construction, interior and exterior decoration, automobile interior decoration, transportation trays and other industries. It is made into various outdoor tables and chairs, fences, armrests, Paving, etc.; indoor decorative strips, decorative panels, wall panels, ceilings, etc.; car interior decorative panels, seat bases, instrument panels, etc.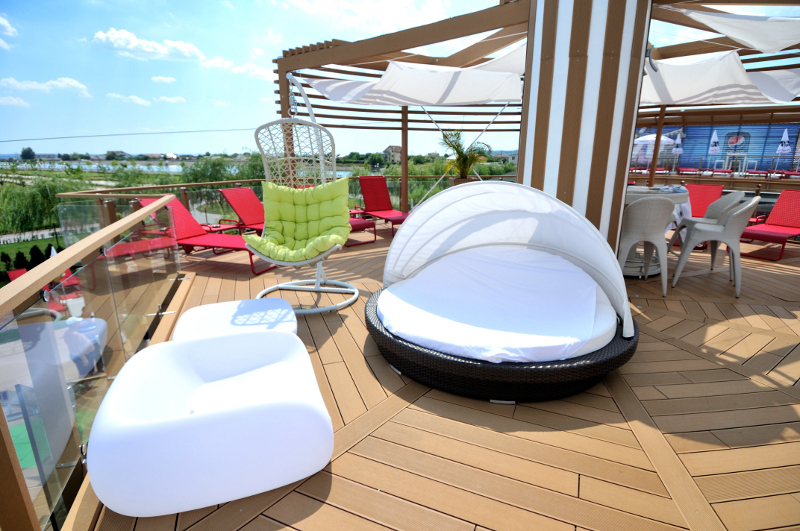 Advantages of PP/PE Wood Plastic Profile
★ 1. Friendly to the environment:Use recycled materials (wood flour and plastic)No preservative treatment required
★ 2. No daily maintenance is required, the service life is longer than wood. It is not hygroscopic, moisture, rot, insect-proofNo cracking, cracking or deformationNot sensitive to cold and hot environment
★ 3. Polyolefin wood-plastic composite materials have good mechanical properties and can be widely used as load-bearing structural materials;
★ 4. 95% of the raw materials of polyolefin wood-plastic materials are recycled materials, so the cost is low, and the products can be recycled 100%;
★ 5. PVC-type wood-plastic composite materials improve impact strength and reduce specific gravity through micro-foaming, and are truly imitation wood.
Performance of PP/PE Wood Plastic Profile Production Line
PP/PE wood plastic profile production line is mainly used for the production of plastic profile like decking, door frame, window frame, etc. The production line consists of wood powder flour miller, mixer, wood plastic pelletizer machine, PP/PE wood plastic profile extrusion line, recycling machine. PP/PE wood plastic profile production line has wide adjustment range, high temperature control precision and convenient and reliable operation.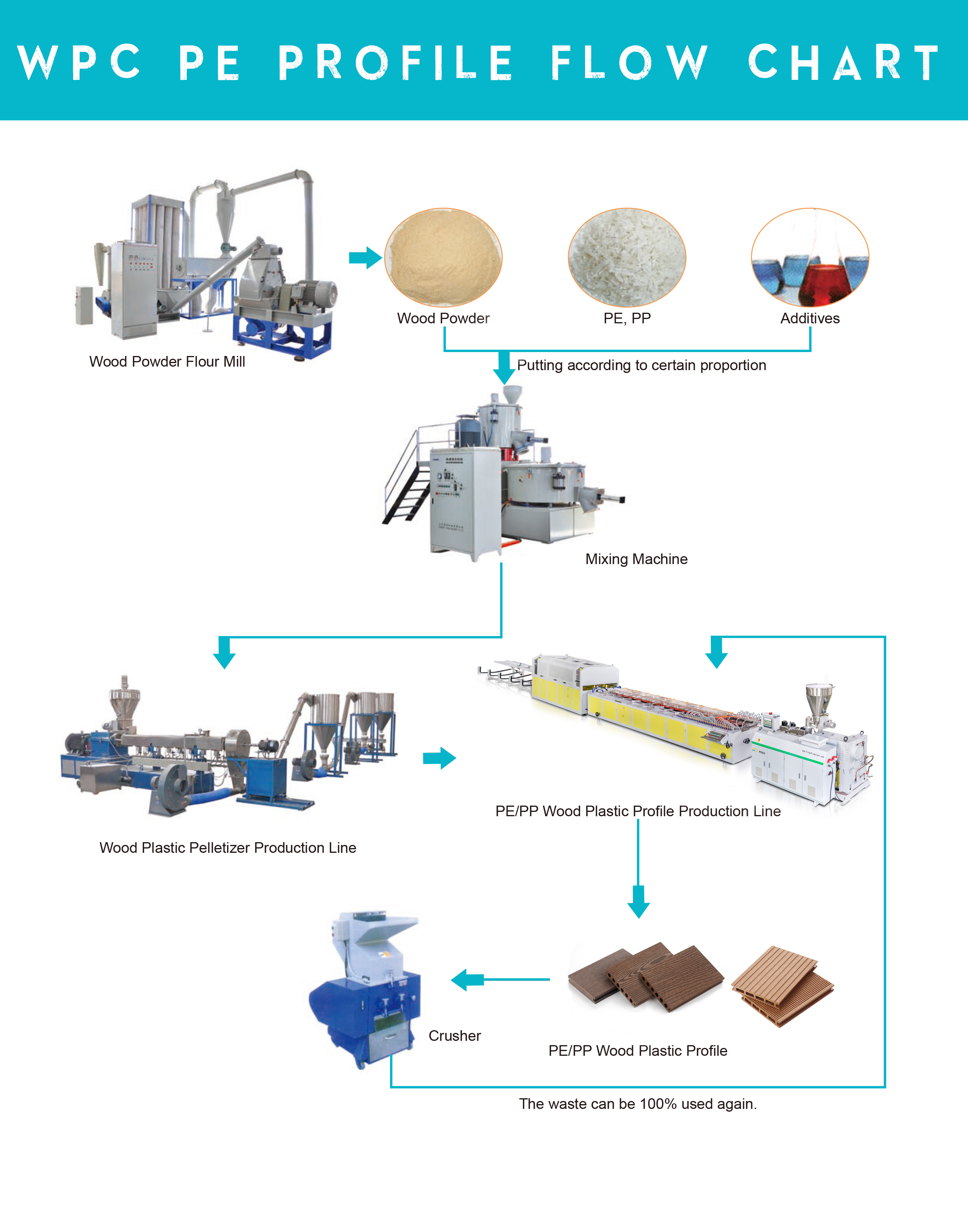 Features of PP/PE Wood Plastic Profile Production Line
1. PP/PE wood plastic profile production line adopts exclusively designed conical twin screw extruder, with vacuum degassing system, can get rid of the waste gas from the raw material which can ensure good quality of final granules;
2. Gearbox: from Jiangyin Deling gearbox company, very famous brand in China, with nice outline, stable running, low noise and long service time;
3. Driving system: adopting Siemens motor, which provide stable torque output and various speed;
4. ABB frequency converter and Schneider electric control system which have wide adjustment range, high precision temperature control, simple operation and good reliability;
5. The production line is equipped with large forcing cooling device to ensure good effects of the PVC profiles;
6. Caterpillar-type haul-off unit utilizes branded reducing speed motor and ABB frequency inverter, and is featured in reasonable structure design, large and stable hauling power.
Technical Parameters
| | | | |
| --- | --- | --- | --- |
| Model | Unit | SJSZ 51/105 | SJSZ 65/132 |
| Screw dia. | mm | Φ51/Φ105 | Φ65/Φ132 |
| Screw quantity | piece | 2 | 2 |
| Screw speed | r/min | 1-40 | 1-38 |
| Main extruder power | KW | 15 | 37 |
| Heating power (approx) | KW | 8 | 24 |
| Output (approx) | kg/h | 80-150 | 120-250 |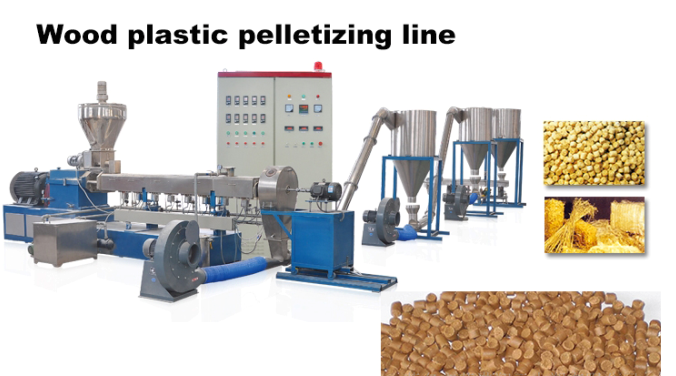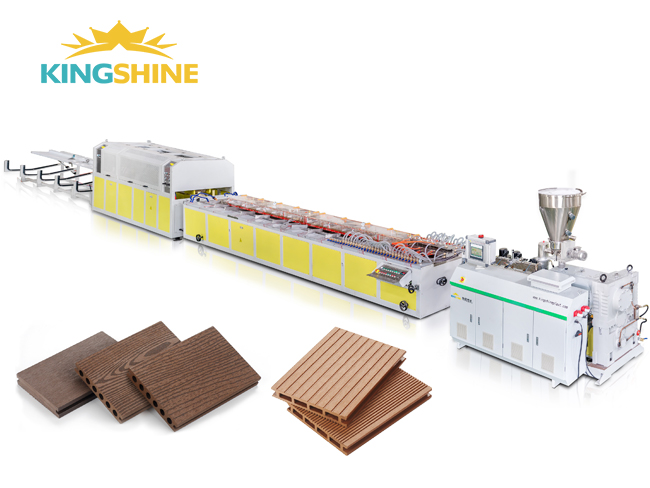 Certificate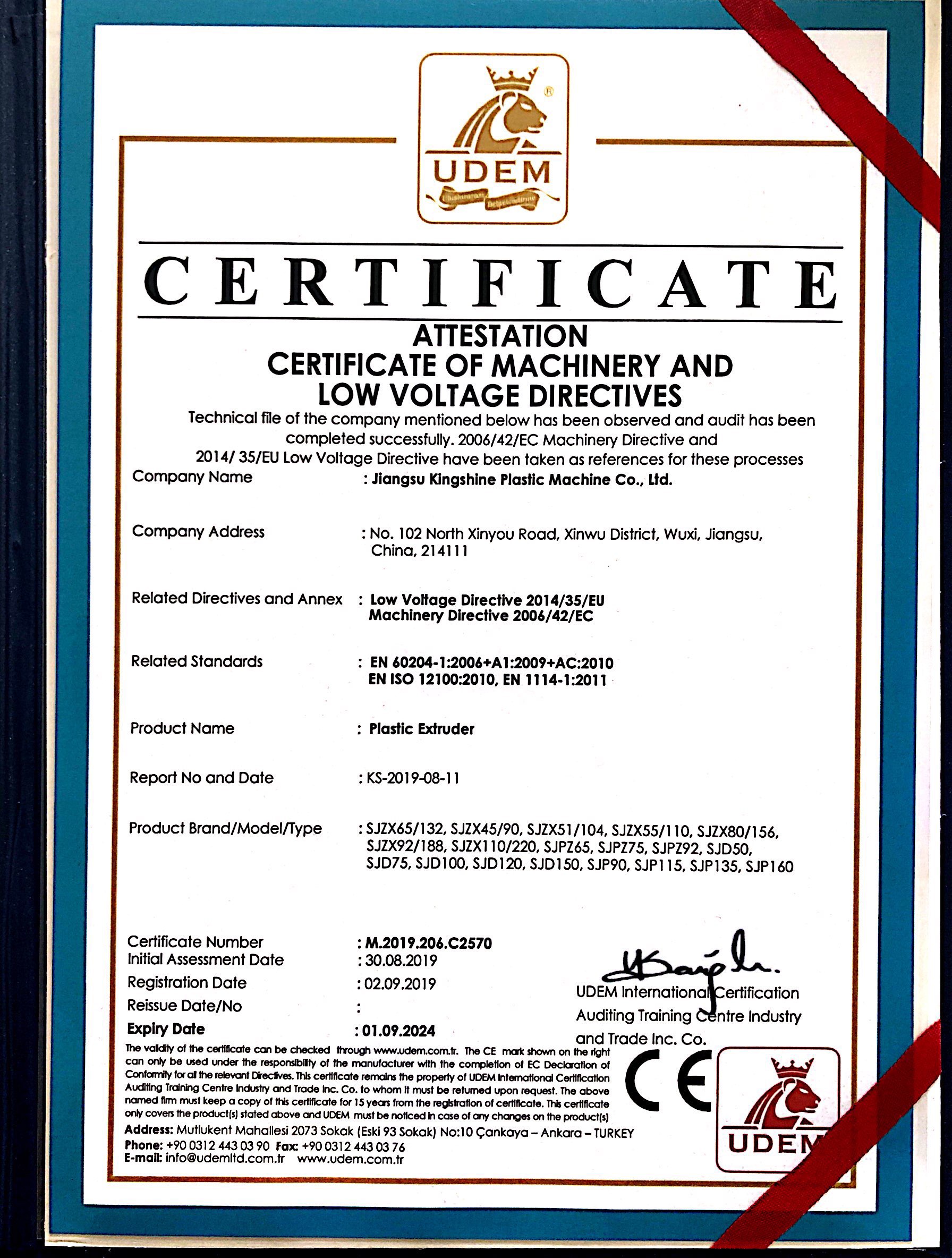 About us
Jiangsu Kingshine Plastic Machine is located in Wuxi, our company specializes in manufacturing high-end PVC plastic extrusion equipment. Our company specializes in the research and development of SPC/LVT flooring production line, PVC laminate production line, PVC foam board production line, PVC door board / door frame production line, PVC ceiling/wall panel production line, PP/PE wood plastic profile production line.
Kingshine equipment exported to Europe, the Middle East, Africa and Southeast Asia and other countries and regions, enjoying the reputation and praise of customers at home and abroad.