PVC Laminate Sheet Production Line
| | | | | |
| --- | --- | --- | --- | --- |
| Model | Thickness(mm) | Width(mm) | Power(kw) | Max capacity(kg/h) |
| 80/156 | 1-8 | 1350 | 75 | 450 |
| 92/188 | 1-8 | 1350 | 110 | 750 |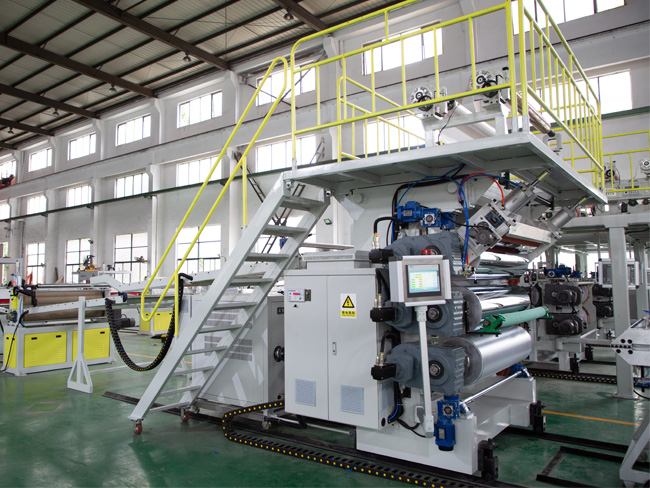 The production line consists of a conical twin-screw extruder, a plate die vertical three-roll calender (including coating equipment), a cooling guide roller, a traction trimming device, a shearing machine, a dry-roll conveyor, a hot-cold mixing unit, a crusher, a mill and other auxiliary equipment. It can meet online UV coating or two processing.
The imitation marble board is a kind of paint-free composite board, which is characterized by green environmental protection, smooth surface, comfortable feel, colorful and elegant, non-toxic paint, non-formaldehyde release, anti-corrosion and waterproof, flame retardant, good rigidity, impact resistance, non-shrinkage cracking, heating curve forming, etc. It is a new fashionable decorative material. No pollution, high quality, good texture, low price, light weight, luxurious effect, easy installation. The texture is clear and natural, the surface effect fidelity can reach 99.5% of the stone, non-toxic, non-radiation, anti-penetration, anti-aging, self-cleaning, wear-resistant surface, hardness can reach 3H, fire protection can reach A to B. Light weight, easy to transport, construction is particularly convenient and fast, the largest specifications can reach 1200 mm * 2440 mm, low cost, high safety!
Scope of application: widely used in various luxury buildings such as hotels, hotels, business buildings, bars, cafes and families. It belongs to high-grade gorgeous decoration new material.
Performance characteristics: non-toxic, non-radioactive, class B fire prevention, non-oil, non-infiltration, anti-mildew and anti-bacteria, wear and impact resistance, easy maintenance, seamless splicing, arbitrary shape.